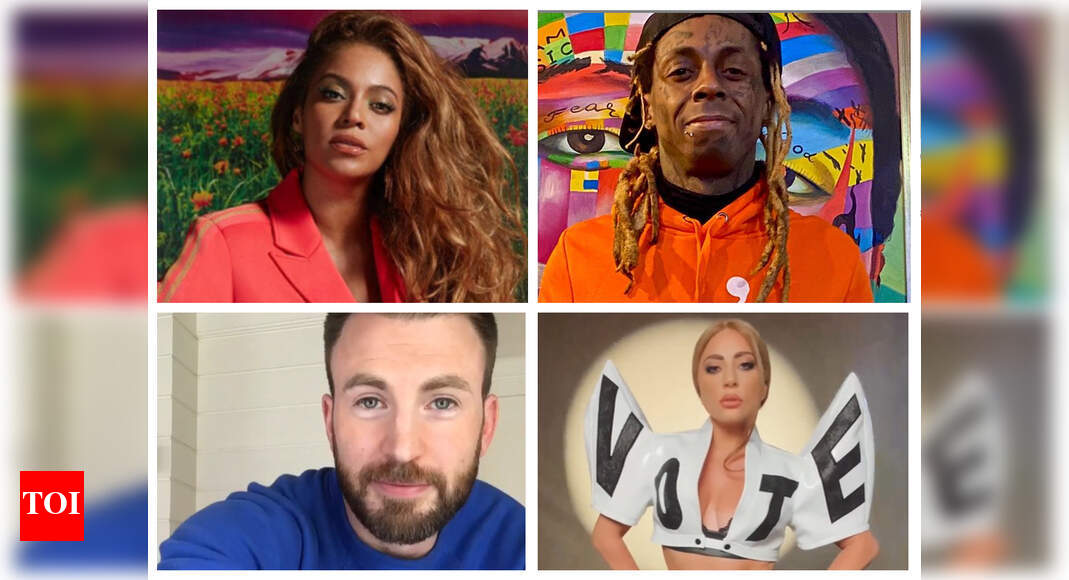 As Americans head to the polls to elect the next president of the United States of America, Hollywood's biggest stars have been coming out in large numbers to not only cast their vote but also to reveal their Presidential endorsement.
Music royalty, Beyonce made headlines today when she posted her endorsement of the Democratic candidate Joe Biden. Taking to her social media handle, the singer encouraged fans and people of the state to cast their ballot, saying, "Come thru, Texas! #VOTE"
Fellow Democratic party supporter, Lady Gaga seemed ecstatic over the big reveal as she shared Queen Bey's post and said, "Let's go blue, Texas. Queen B says so! I love you @beyonce. Let's do this!"

While Beyonce's endorsement came in just hours before the entire country got out to vote, there have been plenty of other stars from Chris Evans to Robert Downey Jr, Scarlett Johansson to Jennifer Aniston, Natalie Portman, Selena Gomez, Taylor Swift, Jennifer Lopez, Cardi B, Lil Wayne and many other stars who have been picking between red and blue.
While America decides who will occupy the White House for the next four years, here's the list of Hollywood stars who are voting to re-elect Republican President Donald Trump and those who are voting for the Democratic candidate, Joe Biden.
Celebrities Voting For The Re-election of President Donald Trump

Rapper Lil Wayne shared a picture with Trump and said, "Just had a great meeting with @realdonaldtrump @potus besides what he's done so far with criminal reform, the platinum plan is going to give the community real ownership. He listened to what we had to say today and assured he will and can get it done."
Just had a great meeting with @realdonaldtrump @potus besides what he's done so far with criminal reform, the plati… https://t.co/8cuYXTN1cE

— Lil Wayne WEEZY F (@LilTunechi) 1604010504000
Angelina Jolie's father, Jon Voight went on camera to encourage Americans to "Vote Donald Trump for another term," he said in a video that he shared on Twitter.
God's Love https://t.co/3jP9i1s6DI

— Jon Voight (@jonvoight) 1600989257000
Musician Kid Rock also shared a photo with Trump to lend his support.

https://t.co/8KoyTSu3Pl

— Kid Rock (@KidRock) 1580938501000
Actress Kristie Alley revealed that she is voting Trump, simply because he is "NOT a politician."

I'm voting for @realDonaldTrump because he's NOT a politician. I voted for him 4 years ago for this reason and shal… https://t.co/a3iMdb0CRt

— Kirstie Alley (@kirstiealley) 1602976226000
Rapper 50 Cent seemed ready to leave New York City if Biden is elected President.
Celebrities Voting For Joe Biden

Beyonce and Lady Gaga reached out to fans via Instagram and encouraged all Americans to cast their votes.
'Avengers' stars Robert Downey Jr, Chris Evans, Scarlett Johansson, Mark Rufflao, director-duo Joe and Anthony Russo, banded together not only to help raise funds for Joe Biden and Kamala Harris, but also encouraged their fans to cast their votes.
Samuel L Jackson, best known for his role as Nick Fury, also lent his support to Joe Biden's Presidential campaign.
Singers Jennifer Lopez, Selena Gomez, Lizzo, Cardi B, Taylor Swift took active part in the campaigning by engaging in chats on social media with the president and wise-president candidates.
Jennifer Aniston, Oscar-winner Jennifer Lawrence, 'The Batman' star Zoe Kravitz along with Dwayne Johnson and 'Star Wars' actor Mark Hamill have also voiced their support for #BidenHarris2020.

#Obama #HRC #BidenHarris https://t.co/UgAoPhgZJV

— Jennifer Lawrence – Represent.Us (@JLawrence_RepUs) 1603819583000
This is @joebiden's hometown. This is more than where he's from. This is who he's for. https://t.co/6ZSK3dXY4H

— Bruce Springsteen (@springsteen) 1604163165000
Supermodels Hailey Baldwin Bieber and Karlie Kloss also joined the #BidenHarris wagon and encouraged fans to do the same.