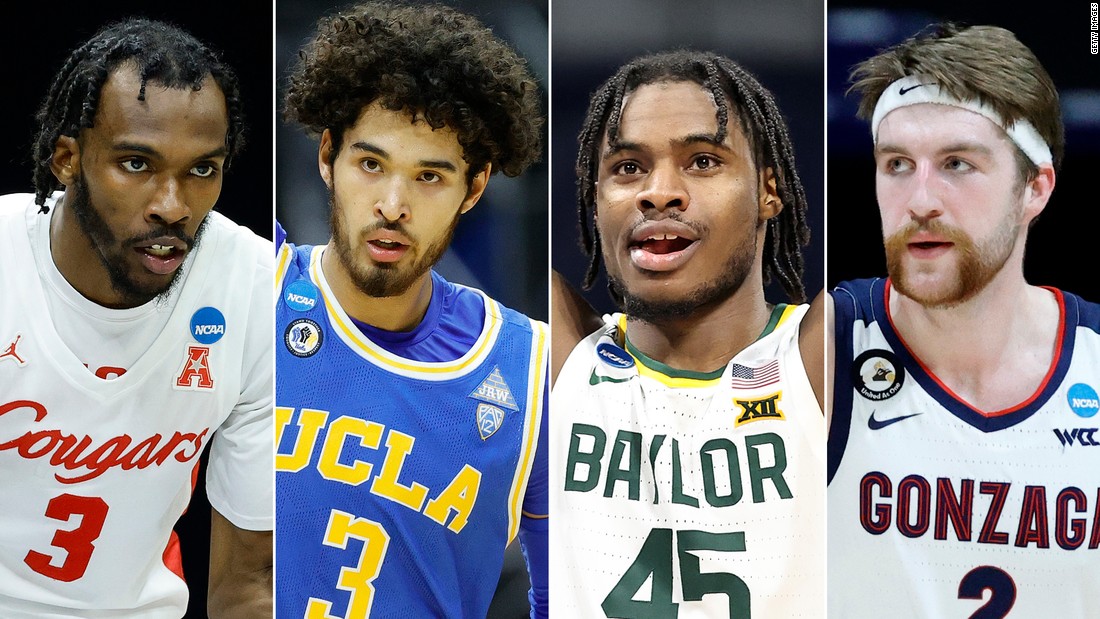 1-seed Baylor vs. 2-seed Houston, 5:14 p.m. ET
THE TOP LINES
Two Texas schools. Two stingy defenses. Two programs that might think they had a shot at making noise in last year's canceled tournament.
BAYLOR'S STORY
But Covid-19 sure made things difficult.
The Bears came back rusty, eventually losing to Kansas on the road and getting knocked out of the Big 12 tournament by Oklahoma State.
That loss "was a blessing," Drew told reporters this week, because Baylor lost its defensive touch and had time to recapture it in practice. So far during the NCAA tournament, the Bears have forced 67 turnovers while committing just 27.
"I feel that shows we have real hoopers on our team," Teague said. "We can play any style of basketball, and…we can overcome it all."
HOUSTON'S STORY
Houston is an American Athletic Conference tournament champion on an 11-game win streak. And one of its stars doesn't want to hear anything about defeating lesser teams to reach the Final Four.
"Never really was doubt" they could make it now, Jarreau said.
1-seed Gonzaga vs. 11-seed UCLA, 8:34 p.m. ET
THE TOP LINES
The tournament's clear favorite, Gonzaga, faces one of the bluest of blue-chip programs that's back on the upswing and turning heads.
Gonzaga has one previous Final Four, losing to North Carolina in the final in 2017. UCLA (22-9) has a record 11 championships, but this is its first Final Four since 2008.
UCLA'S STORY
Once in, they became something special, fending off two teams in overtime and dispatching No 1. seed Michigan by two in the Elite Eight.
"When we had those three guys, quietly I told my dad, 'I've got a chance to have my best team ever,' after Johnny committed to us," Cronin told reporters Tuesday night. "But without those three guys, (I would have thought) hell, no."
Let's see what he thinks if he wins two more games.
GONZAGA'S STORY
Gonzaga has not just beaten every team it faced — it has dominated.
Timme can be a nuisance in the paint, as he showed while scoring 23 against the University of Southern California in the Elite Eight. He'll pivot, duck and squirm his way to the basket against one man. Against a double-team, he'll put his fine passing skills to use.
"He's faced many, many, many big lineups and shot blockers and such. He always figures out a way to get his shot," coach Mark Few, seeking his first title in his second Final Four since taking over in 1999, said after Tuesday's game.
"They never play down to the level of their competition," Charles Barkley said during TBS tournament coverage Tuesday night. "They drive the same speed all the time."
"And the thing about it — they don't drive like 100 mph," Barkley said. "They just say, 'We're going to play at 65 mph, and y'all going to have to reach our level.'"