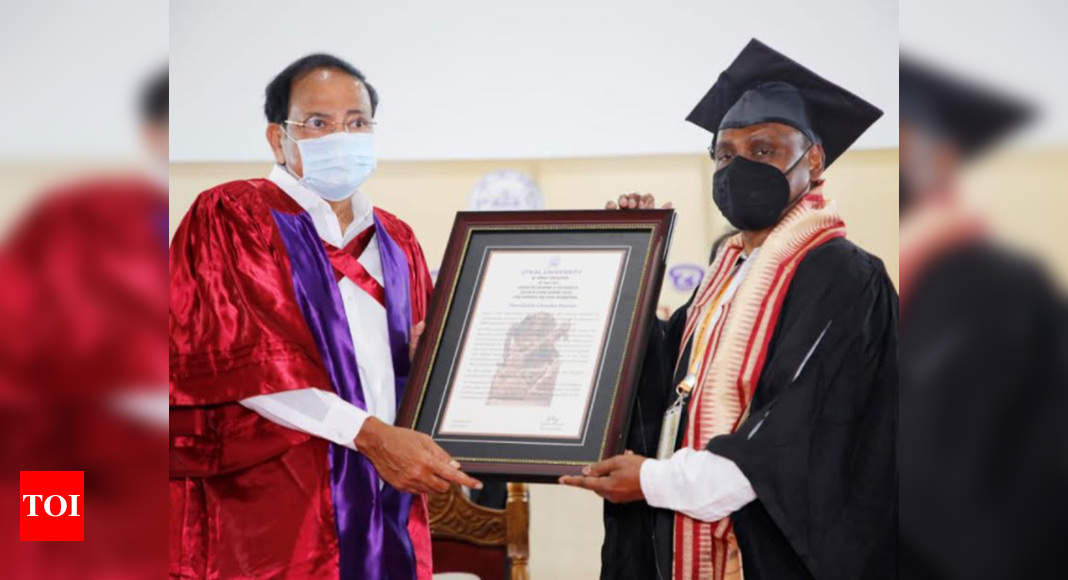 BHUBANESWAR: Comptroller and Auditor General (CAG) of India Girish Chandra Murmu cherished his days in Utkal University while receiving honorary doctorate degree (honoris causa) at the 50th convocation ceremony of the university here on Saturday.
Murmu, who is also the chairman of the panel of external auditors of the United Nations, has completed his post-graduation in political science from Utkal University. This man from the tribal-dominated Mayurbhanj district was also the first lieutenant governor of Jammu and Kashmir.
"I was pursuing my post-graduation in Utkal University in the 1980's. That was a different era. Now the situation has changed a lot. Development is happening in the university. My good wishes to everybody who is working on maintaining the quality of the institution," said Murmu.
He said the university has witnessed growth in faculty, department and other infrastructures over the years. "I am very fortunate that I have completed my post-graduation from this university. I am grateful to my alma mater for this love and admiration. It is an honour to get this degree from the hands of the Vice President of India," he added.
Besides Murmu, four other noted personalities also received the honorary degrees from the hands of Vice President M Venkaiah Naidu at the event. They were- Reserve Bank of India governor Shaktikanta Das, Orissa high court judge justice Sanju Panda, Bhabha Atomic Research Centre director Ajit Kumar Mohanty and Sai International school chairman and Odisha Adarsha Vidyalaya Sangathan (OAVS) advisor Bijaya Sahoo.
A total of 41 PhD degrees and 90 gold medals/endowment prizes were awarded in the ceremony. Shinde Sital Narayan Rao of Madhusudan Law College, Cuttack, received four gold medals and one cash prize in law subjects. Anil Mishra from the SCB medical college and hospital, Cuttack, and Bhagyarashmi Sahoo from the physics department of Utkal University got four gold medals each.
The ceremony was held in the newly constructed convocation hall in the campus. It had made Covid-19 negative certificates mandatory to attend the convocation ceremony. A group of participants had an altercation with the security officials at the entrance of the convocation when the formers did not get entry into the hall. Though they had Covid-19 negative certificate and invitation card, they were allegedly stopped at the entry gate. Officials said the incident happened because the university restricted entry of participants to 200 from 500 persons earlier.
There was a separate hall at the Central Library for media and other people to watch the event live through LCD monitors. It was a different experience for the students as most of them could not attend it because of the Covid restriction.
Among others, Odisha governor and chancellor of the university Ganeshi Lal, higher education minister Arun Kumar Sahoo, Utkal University vice-chancellor Sabita Acharya, registrar Avaya Kumar Nayak, professors, staff, parents and students were present at the event.