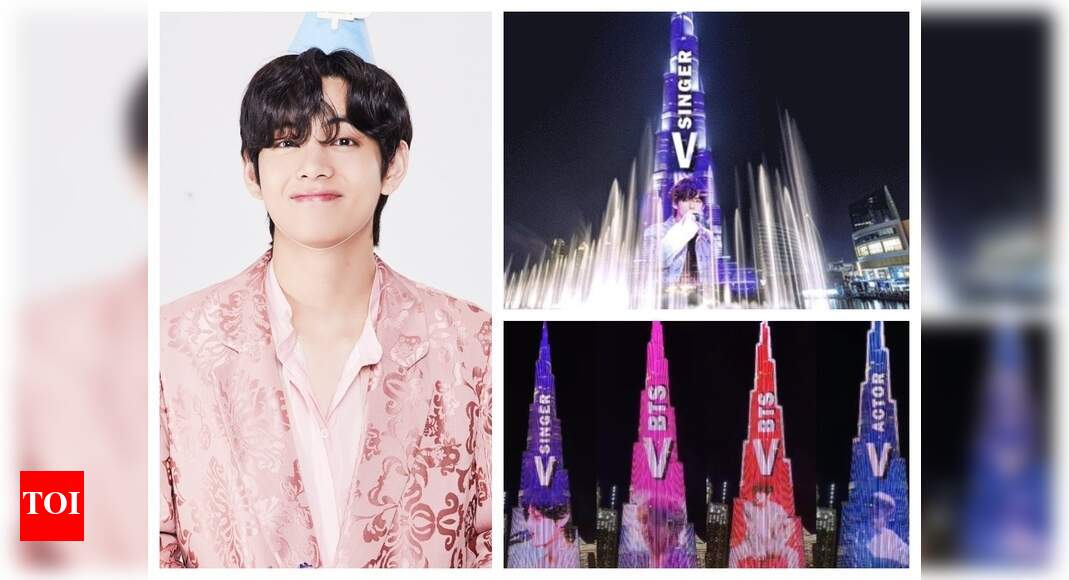 Kim Taehyung
aka V made history on his 26th birthday as he became the first Koren Popstar to feature on the
Burj Khalifa
.
All thanks to his loyal ARMY, a special birthday message was played out on the screens of the World's tallest building. In addition to the grand LED display, a musical fountain played V's hit solo song 'Winter Bear', which eared hoots and cheers from his fans.
The clip that played out on the tower was live-streamed on social media so that fans across the world could join in and witness the grand display. A display not only featured a video montage of V's best moments but also featured a compilation of his many roles as BTS band member, 'singer', 'dancer', 'actor' and 'producer'.

LIVE STREAM: BTS V (Kim Taehyung) Birthday ad on Dubai's Burj Khalifa by @KIMTAEHYUNGBAR_ #HappyTaehyungDay… https://t.co/ydsL1JsrEQ

— KTH DUBAI UAE (@KTH_UAE) 1609253094000
"Happy V Day, Kim Taehyung," read the birthday message that was followed with a note of love.
"We Purple You," the fan-club said in the clip.
I love you Taehyung makes another history!#HappyBirthdayTaehyung #WinterPrinceTaehyung #Taehyungbirthday… https://t.co/mw37sWb7ug

— KTH DUBAI UAE (@KTH_UAE) 1609256504000
MY HEART Tonight, Taehyung made history once again!Thank you so much @KIMTAEHYUNGBAR_ , us UAE ARMYs are fore… https://t.co/OaVT22sxRN

— KTH DUBAI UAE (@KTH_UAE) 1609254177000
Beautiful #Taehyungbirthday #HAPPYVDAY #TaehyungOnBurjKhalifa https://t.co/Qt1Rf6dKaA

— F.A.T (@taspeniamyg99) 1609256826000
WORLD DOMINATION #HAPPYVDAY https://t.co/rKbkUDpBLD

— taehyung pics TAEDAY (@taehyvngpics) 1609258365000
Besides that, V fans have also booked a billboard on the famous Times Square in New York City to display a special birthday message for their favourite star.