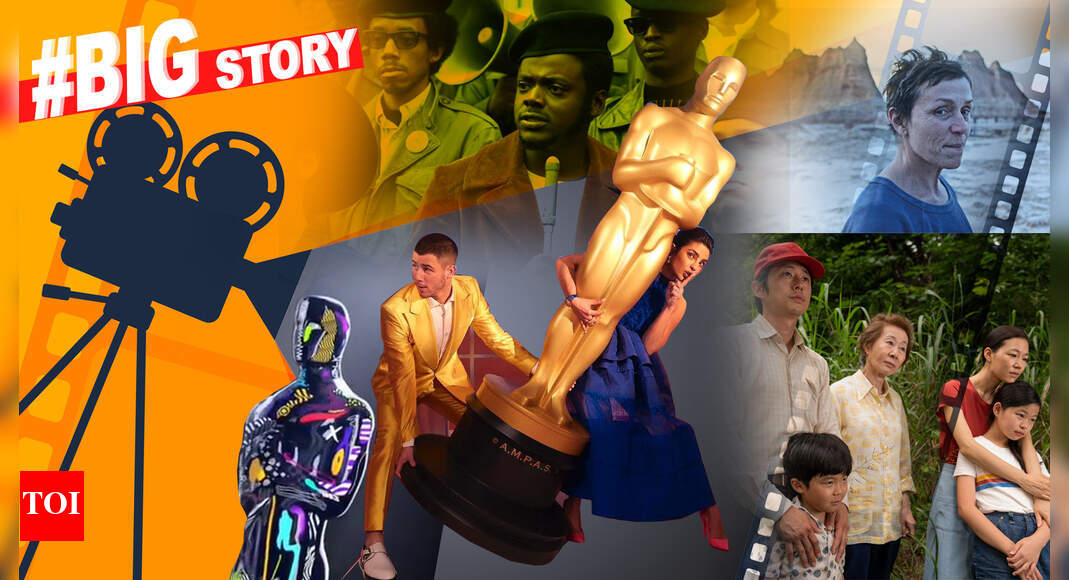 The Oscars are upon us, and this year we had
Priyanka Chopra
and
Nick Jonas
unveil the nominations for the 93rd
Academy
Awards, no less. After being called out for the lack of diversity in nominations with the #OscarsSoWhite campaign, the Academy shone bright by nominating as many as nine people of color. And women led the way, scoring a record 76 nominations in all categories. In this week's #BigStory, we laud the Academy for its diverse nomination that promises to turn 2021 into a milestone year for the awards and explore why India is yet to get its due at the prestigious ceremony that honours cinema from around the world.
The good: Women all the way!


The Academy Award nominations this year were all about 'girl power'. In fact, Oscar 2021 nominations created history, with 70 women scoring 76 nominations in various categories. Besides this, it's the year of many new firsts for the Academy Awards. Chloé Zhao and Emerald Fennell were nominated together for Best Director, making it the first time when two women have ever been nominated in the category. And this prestigious nod also made them the sixth and seventh women to have earned the honour of being nominated in the category.
Zhao also became the first woman to ever receive four nominations in a single year. She bagged herself Best Director, Best Film Editing, Best Adapted Screenplay, and Best Picture as a Producer nods.
Meanwhile, Viola Davis set a record of her own with Oscar nominations. The 55-year-old actress received her fourth Academy nomination for her performance in Ma Rainey's 'Black Bottom'. This nod makes her the most-nominated black actress.
The Best: #NotSoWhite this year
The Academy has been drawing a lot of flak for its acting nominations, which have, over the years, been dominated by white actors. But seems like this year, the Academy has been conscious about its choices to be #NotSoWhite! The 93rd Academy Awards are being hailed for their 'diverse' nominations with nine out of the 20 acting nominees being people of colour. Yuh-jung Youn and Steven Yeun ('Minari'), Riz Ahmed ('Sound of Metal'), Daniel Kaluuya and Lakeith Stanfield ('Judas and the Black Messiah'), Viola Davis and Chadwick Boseman ('Ma Rainey's Black Bottom'), Leslie Odom Jr. ('One Night in Miami'), and Andra Day ('The United States vs Billie Holiday') are the ones who have been nominated in the acting category. Also, 'Judas and the Black Messiah' made history by becoming the first Best Picture nominee with all-black producers.
The Academy of Motion Picture Arts and Sciences has, over the past few years, expanded its membership to make it more inclusive and global. In 2019, they invited 842 new members from 59 countries, of which 50 per cent were women, and 29 per cent were people of colour. "Such changes have been welcome and long overdue. The world changed in 2020 not only because of the pandemic but because finally, people across the globe (more particularly the youth), rose against the injustices against people of colour. The Black Lives Matter movement saw the largest demonstrations against this centuries-long injustice. It is only going to grow bigger from now; all of us people of colour will speak, walk, and take action against any institutions that are not prepared to change. I think most companies, organisations, institutions have received the message loud and clear," shares Dina Dattani, a film producer, who has been associated with films like 'Slumdog Millionaire' and 'Life of Pi'.
Aseem Chhabra, Festival director of the New York Indian Film Festival, feels that the hashtag #OscarSoWhite has finally done some good. He shares, "Over the past few years the Academy has made conscious efforts to increase its member base by including many more artists from around the world. The nominations announced on Monday were the most diverse one can remember in the recent years."
US-based journalist Alex Billington welcomes the noticeable change in the Oscar nominations, saying, "I'm always happy to see a more diverse set of Oscar nominees every year that still reflect the high quality of films released. The changes really began with the #OscarsSoWhite campaign in 2015, which pushed The Academy to try and add more diverse members to deal with the problem." He feels that this diversity began a few years ago. "I also think 'Moonlight's Best Picture win in 2017 made a strong impact and was a reminder that black filmmakers often do make Best Picture level films. The Academy has been adding a more diverse membership ever since and this seems to be making a big difference, as the nominations not only highlight the roles truly worthy of acclaim (Riz Ahmed and Paul Raci from '
Sound of Metal', Youn Yuh-jung and Steven Yeun from '
Minari', Daniel Kaluuya and Lakeith Stanfield from '
Judas and the Black Messiah') but they also accurately reflect the diverse world of filmmakers (Chloe Zhao, Lee Isaac Chung, Ritesh Batra) and film lovers around the world."
The Bad: Why is Oscar still a distant dream for India?


Indian movies have been appreciated the world over but are yet to get validation from the Oscars. While several Indians have walked away with the coveted award, a film is yet to get there. "There are lots of obstacles, one of the main ones is that there is the committee (whose members aren't necessarily audiences of world cinema), which decides the film that gets selected to represent India at the Oscars. For example 'The Lunchbox' was the best film that year and would have stood a chance of winning in the foreign-language category. However, the jury in India chose a film called 'The Good Road' which, for us making films for world cinema, knew would not come anywhere near winning the award. I say this with no disrespect to the makers of that film. The box office numbers of 'The Lunchbox', too, proved the point," shares Dina Dattani.
So far, only three Indian movies have reached the nominations category–'Mother India' (1957), 'Salaam Bombay!' (1988), and 'Lagaan' (2001). This year, the Malayalam film, Lijo Jose Pellissery's 'Jallikattu' was announced as India's official entry for the Best International Feature category. However, the movie failed to be shortlisted in the top 15 movies at the 93rd Academy Awards. Explaining why India is still struggling to win an Oscar nod, Aseem Chhabra says, "There are two reasons why Indian films do not get nominated for the best international film. First, our selection commission is often not clued in on what kind of films, or which film will appeal to American and other foreign Academy members. This year they selected a well-made Indian film 'Jallikattu', but still they should have gone with a film like 'The Disciple', which had everything going for it–name, recognition in the West (it played very well at the Venice, Toronto and New York film festivals too and even won awards), and it was executive produced by the four-time Oscar-winning Mexican filmmaker, Alfonso Cuarón. The other part of the problem concerns Western critics, bloggers and even Academy members, who are not open to discovering new Indian cinema. If they would watch more Indian films at festivals, write about them, and champion them, the Academy will begin to notice these works."
Offering a different perspective, Alex shares, "Hopefully, more Indian films will end up with nominations soon. I am pleased to see 'The White Tiger' get at least one nomination. I saw many filmmakers talking about how much they loved that film. But it all depends on the quality of the film and with more emphasis on excellent Indian cinema, more films will earn the attention of The Academy voters. Hopefully, the Indian selection committee can be improved, but beyond that, I think critics and journalists really need to take a chance and watch more Indian films–from Chaitanya Tamhane's 'The Disciple' to Madhumita Sundararaman's 'K.D.' to Rintu Thomas and Sushmit Ghosh's 'Writing with Fire'. Plus, I will always mention Ritesh Batra's 'The Lunchbox', one of my all-time favorites."
Been there, done that


The Academy had set up a diversity committee with an aim to invite more and more members from different countries, after it was criticised for being more white and male-dominated. Oscar-winning sound designer Resul Pookutty is a part of the committee and draws up a list of potential artists who can represent India at the Academy. Speaking exclusively to ETimes, Resul Pookutty shares how the Oscars have changed over the years and how 'Slumdog Millionaire' was a game-changer for people of colour at the Academy. "Essentially, Oscars are for American cinema but what happened post 'Slumdog…', is that the Asian community started getting recognised. A lot more Indian stories, Asian stories, stories on people of color, started being noticed. Five years ago, the Academy was criticised for being all white. The beauty of any artistic community is that when criticism is raised against them, they react immediately. Hence the Academy quickly formed committees and decided to make it about a diversified group of people. Since the past five years, I have been an executive member of the diversity committee and we have been screening people from all over the world and making them part of the Academy. So, I think we will continue to drive it for another two years, so that we know the Academy is completely diverse, in terms of taking practitioners who are not just winners or nominees, but even other people who have contributed to the world of cinema."
Pointing out that the Academy does a lot more than just put up an award show, Resul adds, "There cannot be any discrimination on the basis of caste, creed, or race, and who else than the artistic community to understand this first. It's like the Oscar committee has woken up, not just about including people of color but also about their role in sensitising people. But the Academy is not just about the ceremony and selling an award show; millions of dollars are spent every year on scientific research, Academy activity, spreading the culture of cinema across the globe, including student scholarships and many other things."
Resul goes on to add, "A second and third generation of Indians, Asians, Bangladeshi, and other Asian communities are becoming a part of the mainstream American community, for example, Riz Ahmed, who has been nominated this year. I would also say that 'Slumdog…' is actually the reason for all this; it was the turning point. I received the love of the American people and the community for the film; they were hooting and celebrating any Asian people they saw on that particular day."
Priyanka Chopra and Nick Jonas's qualification to be Oscar nomination announcers questioned


Soon after Priyanka and Nick Jonas announced the nominations, a Twitter user questioned the actress and her husband Nick Jonas's contribution to cinema that qualified them for announcing the nominations. The netizen, whose bio claimed that he was an entertainment journalist from Australia, wrote, "No disrespect to these two but I'm not sure their contribution to the movies qualifies them to be announcing Oscar nominees." Responding to him, Priyanka shared a clip of her movie credentials and wrote, "Would love your thoughts on what qualifies someone. Here are my 60+ film credentials for your adept consideration".
Lauding Priyanka's representation on the prestigious global platform, Oscar-winner Resul shares, "When we see Priyanka announcing the nominations, it is amazing recognition for Indian talent. She has become one of the mainstream stars today, a proud moment for Indian cinema."