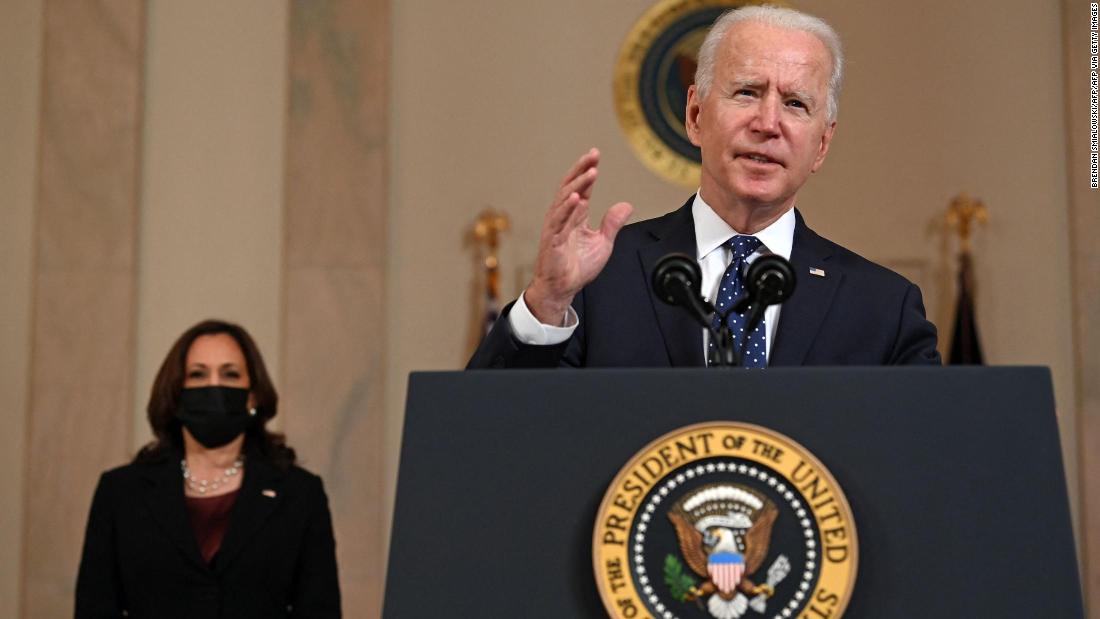 As a part of that call for time off to get vaccinated, Biden will announce a new tax credit to fully offset the cost for small businesses and nonprofits providing paid leave for employees to get vaccinated, the officials said. With more than half of all US adults now at least partially vaccinated, Biden is looking for ways to encourage the rest of the population to get vaccinated and the White House views working adults as the "next big opportunity," one of the officials said. Public polling indicates people are more likely to get vaccinated if it is easier for them to do so and if employers offer incentives.
"The President believes that no one should have to lose a single dollar from their paycheck because they got vaccinated," the official said.
The official said: "By providing paid time off for employees to get vaccinated, employers will not only be investing in their workforce, they'll be investing in a safer workplace."
The tax credit, which was authorized as part of the American Rescue Plan, would allow small- and medium-sized businesses to get reimbursed for any vaccine-related paid time off they provide, up to $500 per day per employee, according to a senior administration official. The tax credit applies to paid time off to get vaccinated and to recover from any side effects of the vaccine, which can include flu-like symptoms. It will be offered between April 1 and September 30 and will apply to nearly half of all private sector employees in America, the officials said.
The tax credit stems from the first coronavirus relief package passed in March 2020, which was subsequently expanded in the December coronavirus relief bill and again under the $1.9 trillion coronavirus relief bill this year, known as the American Rescue Plan.
The tax credit will enable these employers to claim up to $17,110 for 14 weeks of paid leave for each employee to get vaccinated, take time off if they have Covid-19 symptoms and are getting tested for Covid-19, are quarantining or isolating, or have to care for a child whose school is closed or child care provider closed because of the pandemic.
The official said that there is less need for the tax credit for larger employers and many of them have already offered incentives for employees to get vaccinated.
The White House views this, in the words of one administration official, as a "no-brainer" for smaller companies — the credits are there, it's not a hassle to apply for them and, most importantly from the administration's view, vaccinated employees are a huge component of any business returning to normal function. Biden wants to highlight that and push smaller companies toward taking advantage of the credit.
It's also all part of a big ongoing push across the administration to line business up with their vaccination goals. Officials also pointed to ongoing efforts from large companies to help incentivize vaccination and one official said there is "near constant communication" across the business community to try and ensure companies are doing all they can to prod their employees towards getting vaccinated.
The IRS will publish instructions Wednesday afternoon to help businesses access the tax credit.
Biden to celebrate hitting shot target
CDC Director Dr. Rochelle Walensky has warned in recent weeks that the US is at risk of losing all its recent gains in the battle against Covid-19 as the variants take advantage of Americans getting lax with safety measures. Biden has said the US will have enough Covid-19 vaccine for every adult American by the end of next month.
Every person 16 years and older is now eligible to be vaccinated as of Monday, and Biden administration officials say they estimate 90% of Americans now live within five miles of a vaccination site.
The daily average of the number of Covid-19 vaccines going into arms is more than 3 million doses a day, according to the CDC, but the pace of shots administered has slowed in recent days as concerns rise that supply is outstripping demand.
The White House has stressed that distributing the Covid-19 in an equitable manner across the country is central to its vaccination efforts and has focused on educating the public about the vaccines and their safety and efficacy.
More than 560,000 people have died from Covid-19 in the US as of Wednesday morning, according to Johns Hopkins University.