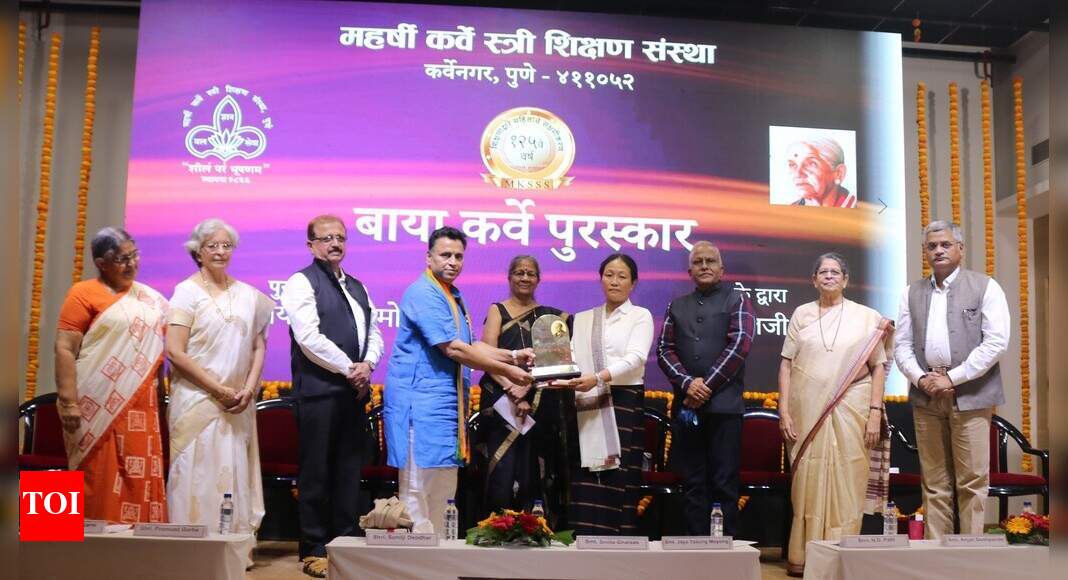 PUNE: This year's Baya Karve award for lady social worker has been conferred to Joya Tasung Moyong, the General Secretary of a non- governmental organisation, Women Against Social Evils, based at Pasighat, East Siang District, Arunachal Pradesh, said a statement issued by the Maharshi Karve Stree Shikshan Samstha (MKSSS).
Every year, on November 29, in remembrance of Baya Karve, wife of Bharat Ratna Maharshi Dhondo Keshav Karve, the prestigious Baya Karve Award is conferred upon a lady social worker or educator to give recognition for exemplary work in her field. The year 2020-21 is the 25th year of Baya Karve Award. Many accomplished social workers and educators have received this prestigious award for their exemplary work in their respective fields in the past.
In 1996, to mark the centenary year of the MKSSS, the Baya Karve Award was constituted. The awardee is selected by an independent selection panel comprising eminent persons of social and academic repute every year. This year, Dr. Anjali Deshpande and Seema Kamble and Samstha's President Smita Ghaisas were the members of this panel for the selection of deserving candidates.
The award ceremony took place at the Karve Nagar campus of MKSSS and Sunil Deodhar, the national secretary of Bharatiya Janata Party conferred the award to Moyong.
Joya works against social evils like alcohol, drugs and substance abuse. Her work includes prevention of the use of narcotic drugs by the school children, educating the society to accept a healthy lifestyle, efforts to reduce the crime in the society arising because of the drug and substance abuse.