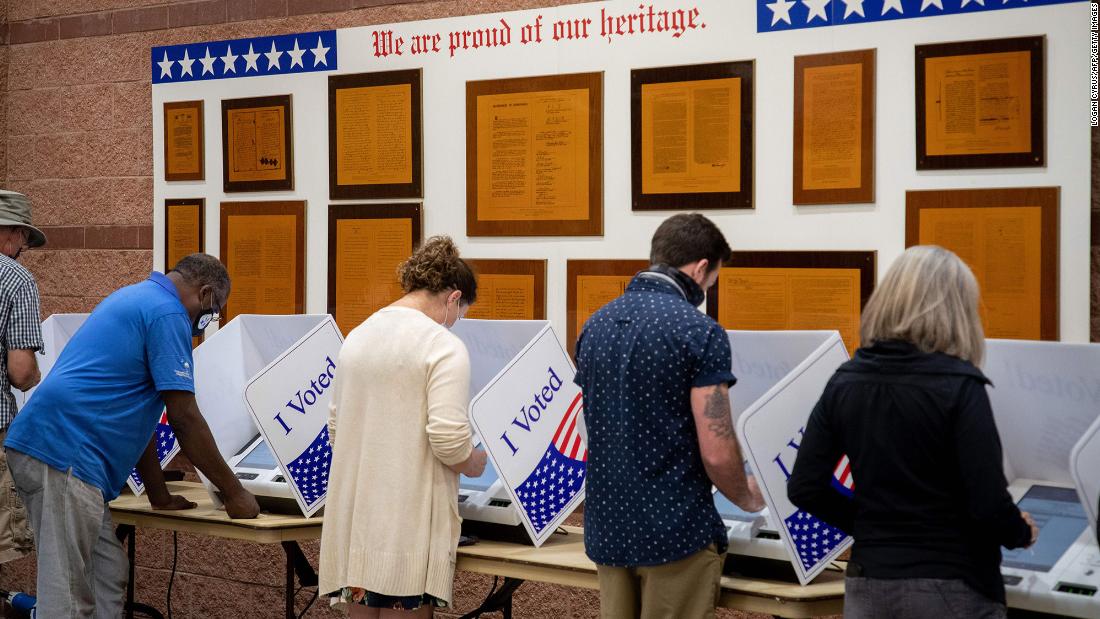 If that barrier is entrenched, it could suppress for years the political emergence of these younger generations. Conversely, advocates argue, the nationwide standards of voting and registration rights established in HR 1 could greatly accelerate the pace at which millennials, Generation Z and eventually their younger siblings — the most racially and religiously diverse generations in American history — achieve political clout commensurate with their growing numbers.
The nationwide floor of voting rights in HR 1 would "make the electorate look more like the population," says Ben Wessel, executive director of NextGen America, a group that mobilizes young voters for progressive causes. "The goal of a democracy should be that the people who are participating in it look a lot like the people who live in it. Right now, the electorate is older, Whiter and wealthier than the population writ large. And this rights that wrong."
"That rising American electorate, however you want to characterize it, their voice is very dependent on being able to access these baseline standards when it comes to registering and voting across the country," Democratic Rep. John Sarbanes of Maryland, the chief sponsor of HR 1, told me.
But the larger context is that this ferocious struggle over access to the ballot — what some analysts consider the broadest assault on voting rights since the Jim Crow era in the segregated South — is occurring at a moment of profound generational and racial transition. Particularly in rapidly changing states across the Sun Belt, the voter suppression measures Republicans are advancing amount to stacking sandbags against a rising demographic tide.
Younger population edging out its elders
The baby boom generation — which is predominantly White because America admitted very few immigrants from 1924 through 1965 — is ending a nearly four-decade run as the dominant generation in the US electorate. Baby boomers have made up the largest generation of eligible voters since 1980, according to calculations by the nonpartisan States of Change project, which studies voting trends and demographic change.
By 2028, millennials and Generation Z will make up almost exactly half of eligible voters, and those born before 1964 will fall below 3 in 10.
The forward edge of this transition is already reshaping the electorate, particularly in many of the Sun Belt states where Republicans now control state government with a coalition that revolves around older, non-college and non-urban Whites. From 2016 through 2020, a clear majority of the young people who turned 18 — and thus became eligible to vote — were people of color in Florida, Georgia, North Carolina, Arizona and Texas, according to calculations provided to me by demographer William Frey of the Brookings Institution's Metropolitan Policy Program.
"Having to register to vote is one of the biggest barriers to getting young people to participate in our elections," Wessel says. "Registration is an intentionally complicated process in many states … for young people who are itinerant, who aren't used to filling out government forms like this … who are intimidated by not wanting to screw something up in general — all of which defines people who are just entering adulthood."
Democratic Sen. Amy Klobuchar of Minnesota, who's been a leading proponent of registration revisions, agrees. "So many times, when you have students and young people and they are new at this … you just have to make it easier," she told me.
For Klobuchar and other Democrats, the answer is the three big registration mandates in HR 1 and its Senate equivalent, S 1. The bills would require every state to adopt "automatic voter registration," in which eligible adults are automatically registered to vote whenever they come in contact with government agencies, usually the department of motor vehicles. It would also require every state to permit "same day registration," in which voters can register when they show up to cast their ballots, either during an early voting period (which is also mandated by the bill) or on Election Day. Finally, it would also require every state to allow voters to register online.
Georgia and automatic registration
Data provided to me by Catalist, a Democratic targeting firm, show that the number of registered voters has grown substantially for all racial groups in Georgia since the state adopted automatic voter registration in 2016. But under the automatic system, new registrations have grown much faster for Blacks, Asian Americans and Hispanics than for Whites: From 2016 to 2020, the state added roughly twice as many new Black voters and almost 10 times as many new Hispanic voters as it had from 2010 through 2016, the Catalist figures show.
"What we saw this past election was confusion and chaos caused by inconsistent standards and last-minute changes to established election laws by state officials and activist judges," Scott insisted in a statement. "It's now more clear than ever that there is a serious need for major reforms to our election systems."
An unequal opportunity?
"It's 2021, and I think Americans expect things to be accessible," Griswold says. "Automatic voter registration, same-day voter registration and online voter registration are a modernization of our elections that Americans should expect. Being able to sign up to exercise your constitutional right to vote should be accessible, and that's what those three programs do."
Like Griswold, Myrna Perez, director of the Brennan Center's voting rights and election program, says the registration policies in HR1 could work together synergistically. "One of the things to remember is just like one anti-voter policy is not going to stop everyone from voting, one pro-voter policy isn't going to be the magic bullet that gets everybody voting," she says. "You need different policies because different communities are different."
Klobuchar, for instance, notes that of these policies, "Same-day registration particularly helps young people who haven't voted before and don't have a registration that's always been in place for, say, 20 years before."
For that reason, the split-level struggle over access to the vote — with Republicans in the states mostly seeking to limit it while Democrats in Washington try to expand it — returns to a core question that is becoming even more urgent as the nation inexorably grows more diverse: Will all Americans have equal opportunity to participate in the democracy?
"We are talking about Americans' constitutional rights, and I believe that all Americans should have access to exercising those rights," says Griswold. "If you happen to be a person of color voting in Alabama you should have the same access as in Colorado. It's not about the state: It's about the voter. Your ability to vote shouldn't depend on your ZIP code, your state, the amount of money in your bank account, the color of your skin, or your gender or anything else."