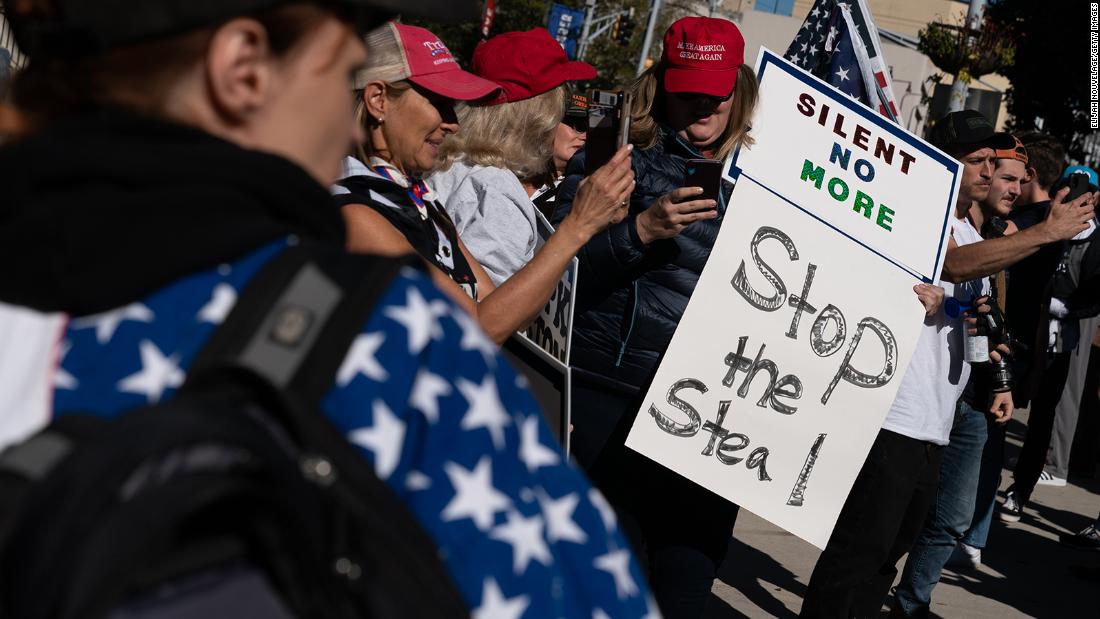 They keep losing in the courts, so now they say "overturn the election."
What will they say next? And when should the reality-based press cover what they're saying?
America is in a perilous place right now — notwithstanding the fact that the Trump team's legal moves seem pathetic and destined to fail. The mere fact that they're trying is destabilizing for democracy, since millions of people believe the lies, and believe the fact-checkers are the real liars.
I'm an optimist by nature, but I can't figure out an optimistic thing to write here.
When I'm channel surfing at night, I see two Americas that exist in parallel right now — on side-by-side tracks — two Americas with completely different assumptions and expectations and information sources. One track is rooted in the reality that Trump was never a popular president, was unable to expand his base, and was voted out of office. The other track is a fictional story, titled "BATTLE FOR THE WHITE HOUSE" by Lou Dobbs' show, that says the election is not over, Trump is going to win, and if he doesn't, it will be because the Democrats and the media stole it from him. One of these storytellers, Trump attorney Sidney Powell, told Dobbs on Thursday that "the entire election, frankly, in all the swing states should be overturned and the legislatures should make sure that the electors are selected for Trump."
Washington Post's lead
But Biden says he's 'not concerned'
The Fox News legal squad
Thursday's Trump news cycle was driven by what WaPo's Glenn Kessler called "the craziest news conference of the Trump presidency." The Trump lawyers who were there — Rudy Giuliani, Jenna Ellis, Joseph diGenova and Sidney Powell — are well known to the Trump-Fox base. It was practically a made-for-Fox event. Still, it was an atrocious decision to carry the entire press conference live — for an hour and a half — without any meaningful fact-checking. The mistake was underlined by liberal commentator Marie Harf, who said the stoking of mass voter fraud lies is "really harmful to democracy" — when host Harris Faulkner cut her off to go live to the presser.
They are conspiracy theorists
Oliver Darcy writes: "After watching the press conference, I wondered: At what point do news orgs start prominently identifying members of Trump's legal team as conspiracy theorists? There is not much daylight — if any — between the nonsense Giuliani and Powell were spouting and what you might hear from Infowars' Alex Jones. So why not describe them as such in stories? Simply referring to them as 'legal advisers' does not convey to audiences how deranged these people are, and actually works to give what they say some undeserved and extra weight…"
FOR THE RECORD
Paul Ryan, where are you?
The former House speaker is in a unique position because he is on the Fox Corporation board of directors. In theory, at least, he is in a position of power. And his disdain for Trump is well known. But Ryan and the rest of the Fox leadership seems content with the crazed election denialism tilt of the network's TV coverage.
Consider the cumulative effect of all that chatter, for a moment. Are Paul Ryan and the Murdochs proud of what Fox is producing?