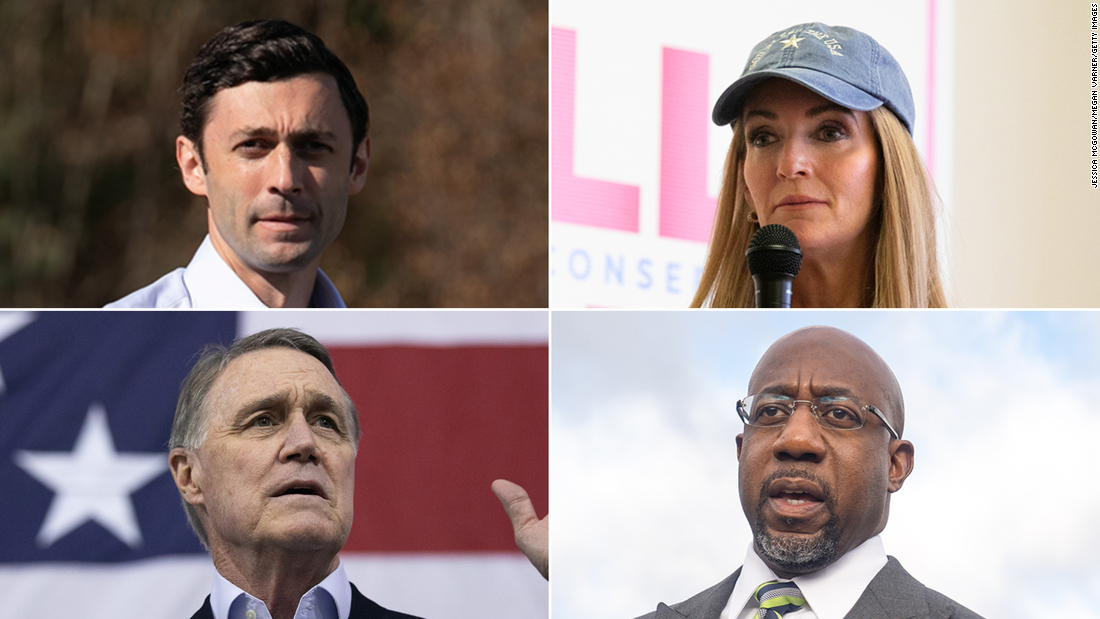 Lose both and Democrats retake the chamber. Win either one and Republicans retain the narrowest of majorities heading into the 117th Congress. The stakes are impossibly high.
Our conversation, conducted via email and lightly edited for flow, is below.
Cillizza: Describe the scene in Georgia over these past two months. Trump contesting the 2020 election AND two runoffs!
Bluestein: Overwhelming. Extraordinary. Insane.
I've struggled throughout the races over how to best to describe these dramatic cliffhangers, with four candidates competing in high-stakes runoffs that will shape President-elect Joe Biden's agenda.
Maybe the best way to capture it is: Dramatic.
No pressure, Georgia!
Cillizza: There's a tendency to lump both races together. Have they been distinct from each other? And if so, how?
Bluestein: Each of the candidates are running their own distinct operations — but they are also effectively running as dueling tickets.
Cillizza: Trump. How big a factor is he in today's vote? And is it positive or negative? Or both?
Democrats have tried to paint a picture of a post-Trump era in American politics, complete with more funding to fight the coronavirus, expanded health care access and a sweeping new voting-rights law. But they've also hammered the Republicans for tying themselves so closely with a President they say is undermining democracy.
Cillizza: The Democratic candidates have been somewhat overshadowed in all of this. Is one a better candidate than the other? Or running a better (or worse) campaign?
Bluestein: That's a great point. As one Democratic operative called to remind me today, the run-up to Tuesday's vote was dominated by talk about the Republicans: Trump's fuming about his election defeat, the push to contest Biden's victory in Congress, the bombshell tape. Even Biden's visit to Georgia was somewhat overshadowed by Trump's rally.
The Democrats, by the way, are OK with that. They aren't struggling to project a sense of unity like the Georgia GOP now is. And they feel that Ossoff and Warnock work in tandem together to help counter the party's traditional struggles in statewide runoffs, when younger and more diverse voters typically show up in lower numbers.
Ossoff, 33, has been appealing to millennials, African Americans and others who might usually ignore these overtime contests. And Warnock, who leads the church where Martin Luther King Jr. once preached, has tried to re-engage Black voters.
Cillizza: Finish this sentence: "The chances of one party sweeping BOTH seats today is _________." Now, explain.
Bluestein: It's hard to predict a race like this, particularly with so little solid polling, but I'll wager the answer is: Very likely.
But I can't rule it out, either, especially if the margins are as tight as they were in November, when Biden defeated Trump by fewer than 12,000 votes. Many Republican analysts expect Perdue, who has a longer track record in GOP politics than Loeffler, to outdo her in the runoffs.