NEW YORK:
Donald Trump
, the ex-president of US and frontrunner to be Republican nominee in 2024, has been indicted over a probe into hush money paid to a porn star, becoming the first former US president to face criminal charges. Trump is set to face a mug shot, finger-printing and court appearance in Manhattan on Tuesday.
The specific charges have not yet been made public as the indictment remains under seal, but CNN reported that Trump faced more than 30 counts of business fraud.
"This is Political Persecution and Election Interference at the highest level in history," Trump, 76, said in a statement and signalled that he will continue to campaign.
The grand jury indictment follows months of hearing evidence about an alleged $130,000 payment to porn star Stormy Daniels in the last days of the 2016 campaign. While the charges are likely to be unsealed on Tuesday, any potential trial is still at least more than a year away, legal experts said, meaning it could occur during or after the presidential campaign.
Trump is already the subject of four criminal investigations, including federal probes into his retention of classified documents and attempts to overturn his poll defeat, and a separate Georgia probe into his attempt to overturn his loss in that state.
Trump's lawyer Michael Cohen, through whom the payment to Daniels was allegedly routed, also said he had paid a second woman, former Playboy model Karen McDougal. The former president has denied having affairs with either woman.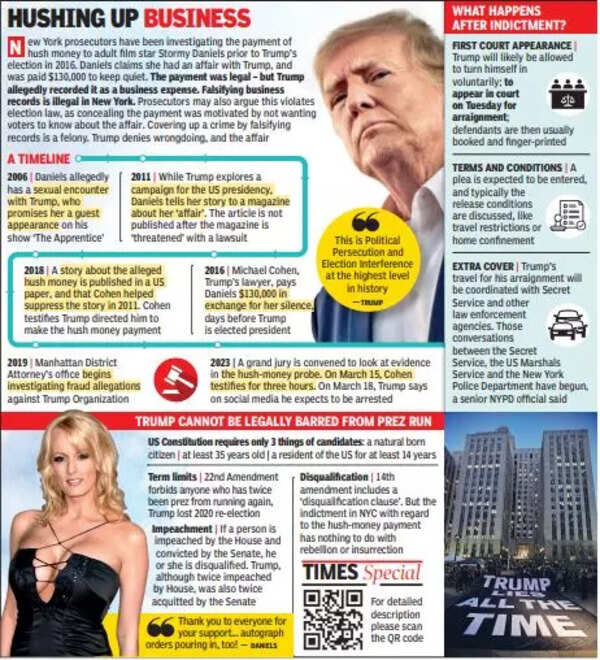 Trump's legal worries extend far beyond charges in NY
The hush money case in New York that has led to criminal charges against Donald Trump is just one of a number of investigations that could pose legal problems for the former president. Here's a look at the probes underway in various states and venues:
Mar-a-Lago: Of all the inquiries Trump faces, a justice department probe into the retention of top secret government documents at his Florida estate Mar-a-Lago could present the most significant legal jeopardy. Federal officials obtained a warrant last year to search his home, convincing a Florida judge there was probable cause of criminal activity there, including the willful retention of national defence information – a statute that by itself carries a penalty of up to 10 years in prison.
2020 election & Capitol Riot: An investigating is on into the efforts by Trump and his allies to overturn the election that Trump falsely claimed was stolen. Federal prosecutors have been focused on a scheme by Trump allies to put forth a slate of fake presidential electors in key battleground states who falsely declared that Trump, not Democrat Joe Biden, had won the 2020 election. They have issued subpoenas to a number of state Republican Party chairs. A House committee that investigated the January 6 attack on the Capitol has recommended that the justice department bring criminal charges against Trump and associates.
Georgia: After his 2020 election loss, Trump called Georgia secretary of state Brad Raffensperger and urged him to "find 11,780 votes" – just enough to overtake Biden and overturn Trump's narrow loss in the state. That January 2 phone call was part of a monthslong effort by a special grand jury in Atlanta investigating whether crimes were committed as part of the pressure campaign to overturn Trump's defeat.
New York: New York attorney general Letitia James has sued Trump and the Trump Organisation, alleging they misled banks and tax authorities about the value of assets, including golf courses and skyscrapers to get loans and tax benefits. That lawsuit could lead to civil penalties against the company. She is seeking a $250 million fine and a ban on Trump doing business in New York. In a separate civil case, Trump has been accused of raping a former magazine columnist in a dressing room in the 1990s.