PUDUCHERRY: The 15th legislative assembly of the Union territory of Puducherry, which convened for its third session on Friday, concluded within 24 minutes after passing obituary references to United Kingdom's queen Elizabeth II, who passed away in September last year.
The legislative assembly must be convened once in six months. The last assembly session convened in August last year when chief minister N Rangasamy, who holds the portfolio of finance, presented a tax-free Rs 10,696.61 crore for the fiscal year 2022-23.
Speaker of the legislative assembly R Selvam made an obituary reference regarding the death of the queen as soon as the House convened, and all members observed silence for a minute in her memory.
The six members of the opposition DMK party reached the assembly on bicycles wearing uniforms of school students and carrying school bags to symbolically mock the All India NR Congress-BJP coalition government for failing to provide uniforms and bags free of cost to the students as promised by the ruling parties.
The DMK members led by leader of the opposition R Siva insisted that the government pass yet another resolution urging the Union government to grant statehood for the Union territory. They raised slogans demanding statehood for the territory and the speaker's repeated request urging them to stay calm went in vain.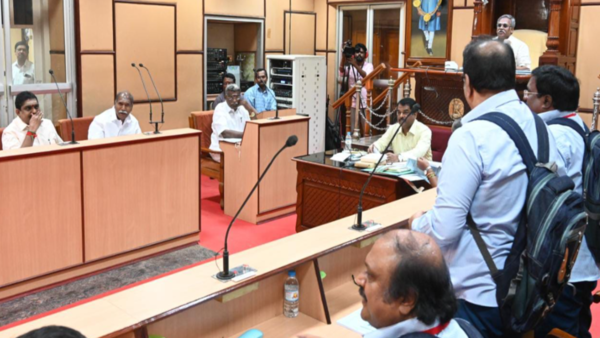 Later the DMK members walked out of the assembly. Two Congress members also walked out of the assembly accusing the government of failing on all fronts. The speaker adjourned the House sine die. The session lasted just less than 24 minutes.